Housing Graph **Click on Image**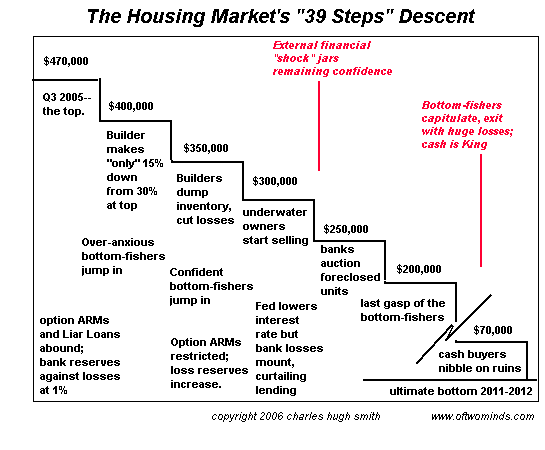 ********** Click on Image ***********
Step 1 defined: over-anxious bottom-fishers jump in at the first hint of decline, confident that the roaring boom will soon re-appear. They have more chance of catching "The Great Pumpkin" on October 31. (with a tip of the hat to the "Peanuts" comic strip.)
The next steps are already visible: a tightening of lending standards which will ultimately choke off the easy lending which fueled the boom. The answer, we're assured, is that the Fed will lower interest rates, re-igniting the blood lust for real estate.
But Japan offers an interesting object lesson in this regard. Low interest rates do not necessarily translate into new loans being made.
At the height of Japan's property bubble, when downtown Tokyo was worth more than all the real estate in the entire U.S., banks were literally begging customers to borrow another couple million dollars--for any purpose. After the bubble popped, Japan's central bank
lowered interest rates to effectively zero, where they remain today, 15 years
(and many tears) later--but the recovery in real estate in tepid and confined to central Tokyo.
Why? Because banks were no longer able to lend money to poor risks, regardless of the low interest rate. As banks get stuck with non-performing loans, their losses mount, meaning that they have to raise cash to maintain even a mere 2% cash reserve against losses. (The current requirement
for U.S. lenders is a paltry 1%
--a number which is sure to rise.) As losses spiral out of control, their need for cash spirals up in tandem. The more foreclosed real estate they auction off to raise cash, the more they lose on their books as the foreclosed properties are sold for less than the mortgages.
From:
Charles Smith