Housing: should be 3 to 4 times your income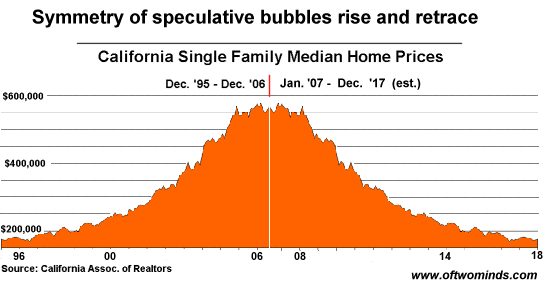 Just as stocks break free of fundamental metrics of value in speculative manias, so too do houses. But just as stocks retrace to historical levels of price-earnings ratios, so too will housing retrace to historical levels of income-to-value ratios. Historically, this is about 3-to-1: long-term,
houses cost about 3 times household income
. Since the median household income in the U.S. is abour $46,000, U.S. incomes would support house values of abour $125,000 - $140,000.
As I have noted before, my parents/step-parents each bought houses in highly desirable locales in the early 70s (Honolulu and Pasadena) at 2:1 (twice annual income) and 4:1 (four times a schoolteacher's annual income to buy in highly desirable Manoa Valley in Honolulu.)
As recently as 1997, friends were
purchasing small homes in very desirable S.F. Bay Area communities for $160,000 - $175,000--four times a modest (for this area) household income of $40,000.
In other words, to return to a normal trendline, one that was in place a mere decade ago, even the most desirable areas will command no more than 4 times median income. That would put house prices in Honolulu, the S.F. Bay Area, West L.A., Connecticut, Northern Virgina, etc. at about $180,000 - $200,000 -- not $600,000.
Real estate trends stretch out over much longer time spans, and as a result we can foresee a lengthy, painfully drawn-out decline in housing values over the coming decade.

Could this really happen in the Bay Area?? High paying jobs + Land Use restrictions?

From: www.oftwominds.com